Non-Anesthesia Teeth Cleaning
Provided by Howell'n Good Doggie Dentals
---
Next clinic dates:
Pacific Grove: Wednesday, November 20, 2019

Clinics are at Stone's Pet Wash.
Phone: (805) 602-2482
Email: info@hgdd.biz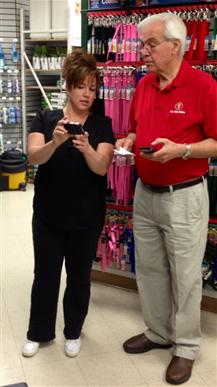 When owner and founder Charmaine Howell returned home to the Central Coast after helping her sister start a canine teeth cleaning business, she brought with her almost 12 years of experience and a dream of establishing her business.
Howell'n Good Doggie Dentals was formed in 2010 with one goal in mind: Offer an excellent and safe service, at an affordable price to help both the pet and the pet parent. With the added experience of Dr Dan Blake DVM, Charmaine and her team bring over 60 years of experience!
Her first clinics began at Maddie Mae's Pet Pantry in Cambria, CA and Dr. Blake's Paso Robles Pet Boarding facility in Paso Robles, CA. After partnering with Mike Lemos & Lemos Feed & Pet Supply in 2012, Charmaine and her team are able to reach customers from Paso Robles all the way to Carpenteria and were able to serve over 1,800 dogs in their first year.
Our Standard Cleaning includes:
A general health exam
A thorough teeth cleaning by vet-trained technicians
One-on-one time with a licensed vet
Before and after pictures available upon request